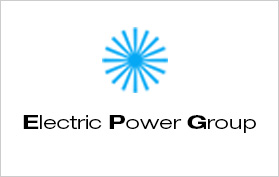 Electric Power Group, LLC (EPG) has been pioneering the development and deployment of synchro-phasor technologies since 2000. Our principals have extensive experience in running and managing utility grids, investigating root causes of major blackouts (WECC 1996, EI 2003), and leveraging this deep domain knowledge to develop industry leading synchrophasor technology applications for wide area real time monitoring, visualization and situational awareness.

The EPG team has extensive hands-on experience with synchrophasor standards, networks, system architecture, deployments and performance analysis through work at EPG for leading ISO's and utilities including PJM, NYISO, ERCOT, CAISO, MISO, BPA, TVA, SCE, AEP, LADWP, SRP, Duke, Dominion, NYPA and other companies.

The EPG team is knowledgeable of the do's and don'ts of synchrophasor networks – infrastructure, data transport, data synchronization, event detection, real time monitoring, data archiving and use in real time and off-line applications. EPG installed its first synchrophasor application, the Real Time Dynamics Monitoring System (RTDMS®) at CAISO in 2003. Since then EPG team is continuing its tradition of innovation and commercialization of synchrophasor technologies including Phasor Archiver in 2007, Phasor Grid Dynamics Analyzer in 2008, enhanced Phasor Data Concentrator in 2009, Phasor Gateway and Registry in 2013, DataNXT in 2014, enhanced Linear State Estimator in 2015, Phasor Simulator for Operator Training in 2015, Remote User Access Application in 2015, One Line Diagram Application in 2016. EPG offers a comprehensive, end-to-end portfolio of more than 15 synchrophasor applications that are in production.

EPG applications are in use in all three interconnections in North America by operators, reliability coordinators, engineers and managers responsible for power grid operations, planning, engineering, event analysis, and protection.