High Performance
ePDE allows fast and reliable extraction of archived data. Performance results for ePDE to extract archived data at different data resolutions, levels of signal counts and duration are shown in the table1.
ePDE can be used to extract data for more number of signals and data duration, however the extraction time increases linearly. In addition to the number of signals being extracted and the duration for which they are being extracted, data extraction times vary with several other factors like current load (I/O) on the Database, Database file groups' structure, Database Server and ePDE system resources: RAM and CPU, amount of data in the archive, data resolution, network bandwidth and load etc.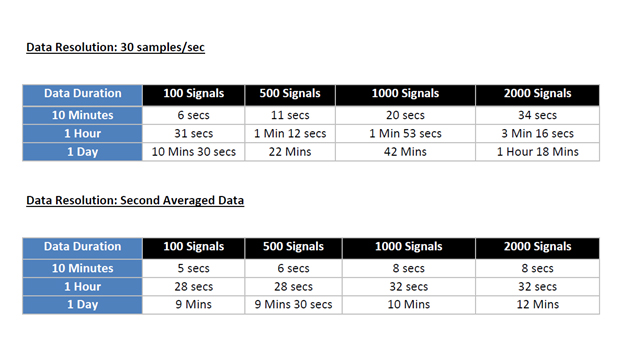 1 These results are from EPG's test environments that have been setup as close as possible to synchrophasor production deployments at its customers' sites.
Flexible Input and Output Options
ePDE provides flexibility in terms of specifying the input and output parameters such as date/time range and time zone selection, data resolution selection, output file size, name, format and location selection.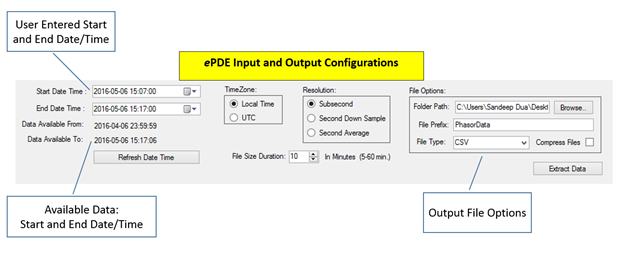 Saved Database COnnection Settings
ePDE provides the capability to save multiple database connection settings for future use. All saved connections appear in a drop-down list when the application is launched. The saved connections list automatically populates the settings with the connection information previously used.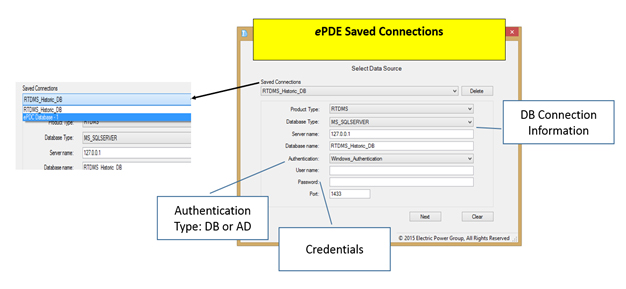 Intuitive Signal Filtering and Selection
ePDE provides a user friendly and intuitive interface to easily filter and select signals for data extraction.